Sound illuminating dress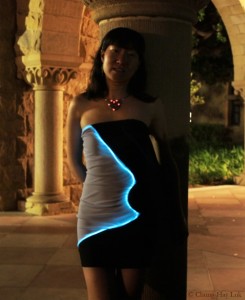 This strapless dress lights up with a cool blue glow in response to loud sounds. Ambient sound is picked up from a microphone. When it is louder than a manually set threshold, the electroluminescent wire in the dress illuminates. All electronics and wiring can be removed, so that the batteries can be changed and the dress washed.
The sound illuminating dress and Heart Spark was in the eTextile and Wearable Computing Showcase at Maker Faire on Saturday, May 21, 2011.
Thanks to Eric Boyd and Lynne Bruning for this opportunity!
More photos here:
Dress in action: